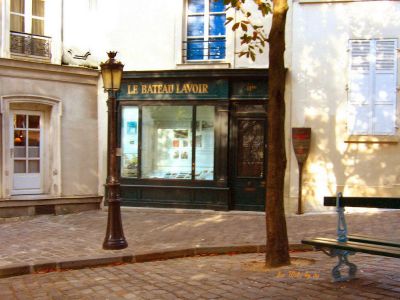 Le Bateau-Lavoir – Picasso's Old Studio, Paris
Le Bateau-Lavoir, a historical site situated in Montmartre, was once the epicenter of the art world, brimming with artists and literary figures. Originally a piano factory, the building was converted into multiple art studios, becoming an integral part of the early 20th-century art movement.

Max Jacob, French poet and painter in the early 20th century, called it Le Bateau Lavoir (Washhouse Boat) for its resemblance to a laundry boat. Painter, Maxime Maufra, was the first tenant here in 1890. From 1904, Le Bateau was predominantly occupied by emerging artists and writers, as well as actors and art dealers, most of whom were extremely poor and unappreciated. It became an unofficial club that included artists Henri Matisse, Georges Braque, André Derain, Raoul Dufy, Marie Laurencin, Modigliani, Jean-Paul Laurens, Maurice Utrillo, to name a few; and writers such as Guillaume Apollinaire, Alfred Jarry, Jean Cocteau, Gustave Coquiot, among others.

Picasso lived here from 1904 to 1912, and painted his world-famous "Les Demoiselles d'Avignon", "Young Girl with a Flower Basket", and "Garçon à la pipe (Boy with a Pipe)". Othon Friesz painted "The Reclining Nude" whilst staying at Le Bateau in 1905.

It was at this informal art club that Picasso voiced for the first time the concept of cubism. Daily discussions took place in the studios and spilled out into the neighboring cafes. Slowly, the old style of painting was abandoned and a new aesthetic doctrine started to emerge.

The First World War that broke out in 1914 forced many artists to leave Montmartre for a more comfortable, calmer residence. With the emergence of the artistic scene in Montparnasse after WWI and notably La Ruche, Le Bateau-Lavoir lost its beauty.

In 1970, the wooden structure caught a fire and only the façade survived the incident. Fortunately, the edifice was rebuilt eight years later. Today, the birthplace of Cubism is no longer open to the public, but its front window, filled with old photographs, vividly depicts the eventful history of the place.

If you have a heart for art, you absolutely must not miss this.
Le Bateau-Lavoir – Picasso's Old Studio on Map
Walking Tours in Paris, France
Useful Travel Guides for Planning Your Trip
---