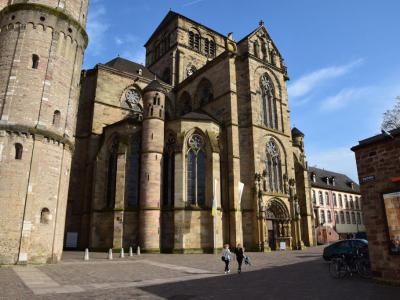 Liebfrauenkirche (Church of Our Lady), Trier
(must see)
The Church of Our Lady is one of Germany's oldest Gothic churches and the first French Gothic-style cathedral built outside France. The Church of Our Lady was built on the site of a double Roman church and shares a wall with St. Peter's Cathedral. Construction started around 1230 and was completed by 1260. Today, the church is a UNESCO World Heritage Site.

A high peak was added to the central tower in 1492. However, the peak was destroyed in 1631 and replaced with a hipped roof.

The church floor plan resembles a 12-petaled rose that symbolizes the Virgin Mary, the twelve tribes of Israel, and the Twelve Apostles. If you stand on a specific black stone, you can see 12 columns painted with the Apostle's Creed and view depictions of the Twelve Apostles.

The Church of Our Lady is also known for its impressive altar and splendid stained glass.
Liebfrauenkirche (Church of Our Lady) on Map
Walking Tours in Trier, Germany