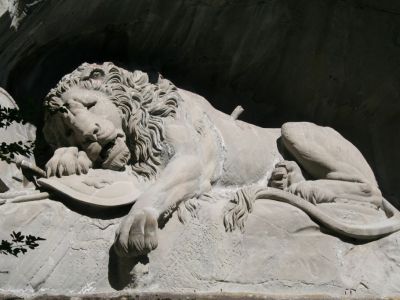 Lion Monument, Lucerne
(must see)
The Lion Monument, also known as the Lion of Lucerne, is a carved rock sculpture located in Lucerne, Switzerland. It was crafted in 1820 to honor the memory of the Swiss Guards who tragically lost their lives in 1792 during the French Revolution. This somber event occurred when revolutionaries attacked the Tuileries Palace in Paris. The Lion Monument stands as one of Switzerland's most renowned landmarks and draws approximately 1.4 million tourists annually.

Starting in the early 17th century, a Swiss Guards regiment had been a part of the Royal Army of France. On August 10th, 1792, as revolutionaries overran the palace, conflict erupted spontaneously after the royal family had been evacuated from the Tuileries to seek shelter with the Legislative Assembly. The Swiss Guards found themselves running out of ammunition and were ultimately overwhelmed by the numerically superior revolutionary forces.

In the course of the fighting or in the aftermath of their surrender, approximately 760 Swiss Guards who had defended the Tuileries lost their lives. An additional two hundred succumbed to their injuries while in prison or fell victim to the September Massacres that ensued.

The Lion Monument, an impressive piece of rock art carved into a cliff face, measures an imposing ten meters in length and six meters in height. It is dedicated to honoring the loyalty and courage of the Swiss. The sculpture depicts a dying lion impaled by a spear, with a shield bearing the emblem of the French monarchy covering its body. Adjacent to the lion, there is another shield bearing the coat of arms of Switzerland.

Mark Twain famously referred to this sculpture of a mortally wounded lion as "the most mournful and moving piece of stone in the world."
Walking Tours in Lucerne, Switzerland