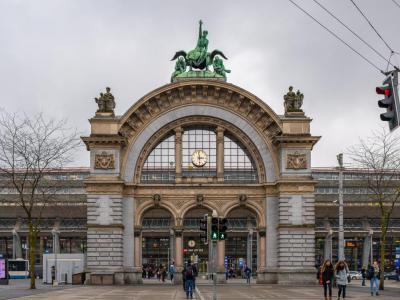 Lucerne Railway Station, Lucerne
(must see)
The Lucerne Railway Station is the main hub of Switzerland's rail network. It serves domestic and international traffic on several rail lines. The station is located in a waterfront location on the south side of Lake Lucerne just above the outflow of the Reuss river. A square occupies the area between the front of the station and the lakefront, and is heavily used by the local buses. The landing stages used by the passenger ships are located at the lakeside of the square, providing interchange between rail and water transport. An underground shopping mall lies below both the concourse of the railway station and the square.

The station building was built in 1896. It featured an amazing entrance hall with a distinctive cupola and an elegant curved roof. A fire broke out in 1971 and destroyed much of the building including the cupola, the station frontage and concourse.

A new station was eventually built, and opened on 5 February 1991, exactly 20 years after its predecessor was destroyed. The historic entrance portal facing the lake was re-erected to honor the legacy 1896 building. The portal is crowned by a sculpture named "Zeitgeist" by the well known Swiss sculptor, Richard Kissling.
Lucerne Railway Station on Map
Walking Tours in Lucerne, Switzerland