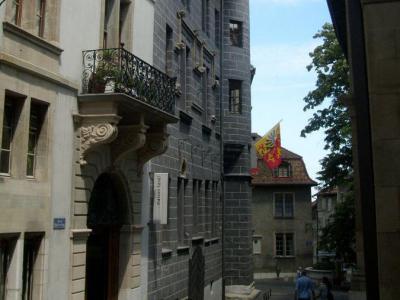 Maison Tavel House Museum, Geneva
A unique testimony to medieval architecture in Switzerland, the Maison Tavel (Tavel House) is a listed historic building, one of the oldest in Geneva. The house was built in the 12th century by the Tavels, a noble Genevan family, hence the name. In 1334, it was reconstructed following a devastating fire, upon which it received an urban palace appearance. Having changed hands several times over the course of centuries between various influential local families, the house was finally acquired in 1963 by the City of Geneva, which undertook its thorough and exemplary restoration. In 1986, the property was turned into a museum of history of Geneva set to illustrate the city's urban development and various aspects of its daily life throughout centuries.

The exhibits – artifacts and historical objects focusing mostly on Geneva's medieval period – are spread over six floors and an underground section. In front of the museum there is a line of huge canons. The highlight of the exhibition, on the top floor, is a multimedia presentation on screen and a huge 3D map of Geneva outlining the city's history from the early days through the modern times, called "Geneva, history made-to-measure", with an audio provided in English, French, and German.

On the ground floor there is a reception desk. Free Wi-Fi is available throughout the building. Toilets and cloakroom, resembling a cave, are in the basement. There is also an exposition of historical measurements and machine weights, as well as an impressive 6,300-liter wooden barrel.

Operation hours: Tuesday - Sunday: 11 am - 6 pm.
Maison Tavel House Museum on Map
Walking Tours in Geneva, Switzerland