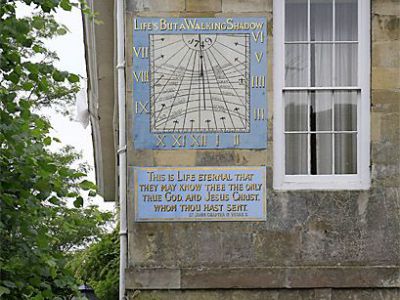 Malmesbury House, Salisbury
Tucked away beside St. Ann's Gate, to the east of The Close, Malmesbury House is an outstanding historic property constructed around 1416 on the site of Copt Hall, a 13th-century canonry.

At the outset of the Civil War, Sir George Vaughan, High Sheriff of Wiltshire, lived in this house from where he raised forces in the county to support King Charles I. The latter's son, King Charles II, also stayed in the house in 1665 when he fled London to escape the Great Plague, and is thought to have addressed the local public from the projecting oriel window which still overlooks St. John Street and bears his coat of arms. King Charles II was also reputed to have been hidden in this place after the disastrous battle of Worcester; one of the bedrooms herein is called "King Charles Room".

The Harris family, who acquired the property in 1660, had the most influence on its appearance, a classic example of Queen Anne-style with a striking façade of ashlar and a steep pitched hipped tile roof. James Harris added the western portion of the house, while the frontage decorations were carried out by his son, James Harris II, in the 1740s. In turn, his own son and heir, James Harris III, was responsible for decorating the interior.

It is to James Harris III, who was created the 1st Earl of Malmesbury in recognition of his long and distinguished diplomatic career, that the house owes its name. James Harris III was a great lover of music and a friend of the composer George Frederick Handel who reportedly gave his first concert in England in the music room above St. Ann's Gate; he also frequently stayed at this place.

The building's west front is attributed to Sir Christopher Wren although some believe that it may have been designed by the local architect, John Fort, Wren's master builder.

The house has a remarkable blue and gold vertical sundial that was put in place in 1749, just three years before the reformation of the calendar in 1752. The sundial is partially visible, as there is now a tree which grows in front of it. The text above is from Macbeth, "Life's but a walking shadow".

Personal belongings of the Harris family, displayed inside, complement the legends of the former owners, as well as its secret rooms, peepholes and rumored ghost.

The interior, described as "strikingly splendid", features fine 18th-century plaster rococo plasterwork and a beautiful entrance hall with a staircase, plus a drawing room with magnificent early 18th-century cornice and panelling, Gothic library, and extensive domestic offices.

You can visit the house by guided tour only.
Walking Tours in Salisbury, England