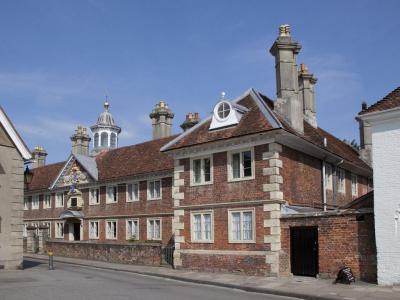 Matrons' College, Salisbury
The College of Matrons (or Matrons' College) is a residential building and charity within the Salisbury Cathedral Close. It was constructed in 1682 by Seth Ward as an almshouse (permanent residence) for ten widows of clergy ordained within the diocese of Salisbury.

Originally, applicants to the college had to be widows with adequate funds, who were over 50 years of age, sober-minded and religious. Among the early rules of governance, tenants were required to attend two divine services a day in the cathedral and must not be absent from the Close for more than a month. Presently, the charitable Matron's College caters to local single women.

The college building – there is some uncertainty about its being designed by Christopher Wren – has a striking crest of arms on the exterior. Built of brick, it has stone window surrounds, stone quoining and red tiles.

Above the porched main entrance, set in a roof level gable end, is a brightly painted Royal Coat of Arms from the Stuart period, with drapes of fruit on each side. There is also a garden area to the rear and some other smaller associated redbrick buildings. The main edifice was extended and renovated in 1870.
Sight description based on Wikipedia.
Walking Tours in Salisbury, England