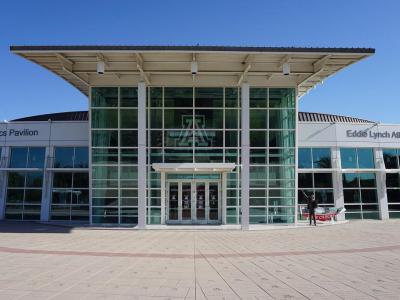 McKale Center (U of A), Tucson
McKale Memorial Center is the home of the university's Wildcats basketball team. It is primarily used for basketball, but also has physical training and therapy facilities. The arena opened in February 1973 and has an official capacity of 14,644 spectators.

The McKale Center was named in honor of J.F. "Pop" McKale, a major athletic figure at U of A from 1914 to 1957. At one time, he was head coach of all of the school's athletic teams. He was head basketball coach from 1914 to 1921, where he achieved a 49–12 (.803) record. He led the football team from 1914 to 1930, with an 80–32–6 (.703) record. It was McKale's first team that resulted in Arizona's teams being nicknamed "Wildcats." In 1914, Arizona's name meant very little in the college football world. Although they lost to Occidental College in Los Angeles 14–0, a reporter for the Los Angeles Times was so impressed with Arizona's effort that he wrote, "The Arizona men showed the fight of wild cats". Soon afterward, Arizona's student-athletes were nicknamed the Wildcats.

In terms of capacity, McKale Center is the second-largest arena in the Pac-12 conference; Utah's Huntsman Center in Salt Lake City is first, but Arizona averages greater attendance.
McKale Center (U of A) on Map
Walking Tours in Tucson, Arizona