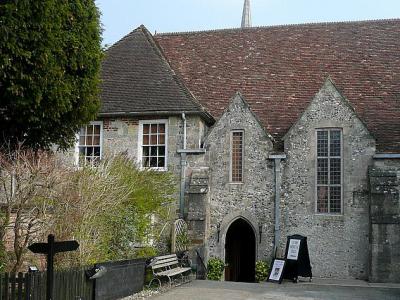 Medieval Hall & Old Deanery, Salisbury
Concealed from the road by a modern college block, the Old Deanery building, situated opposite the west end of the Cathedral, was probably one of the first sites to be developed within the Close, circa 1220. In 1277, Bishop Roger de Wykehampton made over the Hall, that he had occupied as Dean, to be used as the Deanery. Ever since then and for another 700+ years, until 1922, it had served as the primary accommodations for Deans, following which it became part if the diocesan training college of Sarum St Michael.

Back in the 13th century, the property comprised an open hall with service rooms, a cross range and a chapel. It was enlarged during the late 14th or early 15th century, and further restored in 1670. Another, partial reconstruction took place in the second half of the 18th century, with further alterations followed in the early 19th century. The building was once again restored throughout 1960-63, and in 1981 was turned into a block of flats.

Today, the Deanery complex encompasses three medieval houses along the River Avon, which are in perfect condition courtesy of extensive restorations, the most recent one being in 1995. Inside the Medieval Banqueting Hall, underneath a timber-framed roof supported by stone walls, you will find the High Table, the old hearth and original 13th-century wall painting. Also in the Hall, from April to September, a 30-minute video on Salisbury's history, called 'Secrets of Salisbury,' is demonstrated every hour.
Medieval Hall & Old Deanery on Map
Walking Tours in Salisbury, England