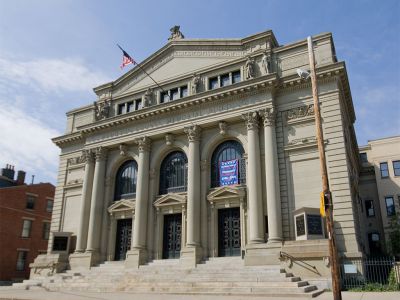 Memorial Hall, Cincinnati
The Hamilton County Memorial Building, known by most as Memorial Hall, is a building created as a memorial to members of the military from Cincinnati and Hamilton County.

The building was funded by a cooperation between the Grand Army of the Republic and Hamilton County. In 1908, the two entities enlisted Samuel Hannaford & Sons to design the Beaux Arts-style memorial hall.

The hall hosts a 556-seat theatre that is used for concerts, events and ceremonies. Tourists can purchase tickets to see one of the many shows so they can get a glimpse of the hall's interior. With over 300 shows hosted each year, it is very easy to find a performance. Likewise, Memorial Hall attempts to offer as many low-cost or free performances as possible.

Many visitors forego the performances and simply enjoy viewing the columns and sculpted figures that adorn the exterior of the building. The location of Memorial Hall makes it an easy stop on a walking tour. It is in the Over-the-Rhine neighborhood, adjacent to Washington Park and south of Music Hall.
Walking Tours in Cincinnati, Ohio