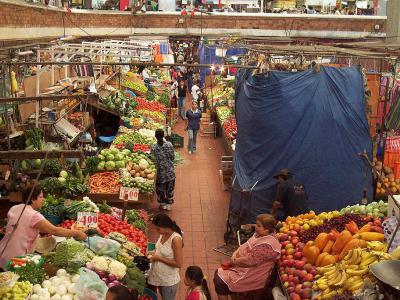 Mercado de San Juan de Dios (Libertad Market), Guadalajara
Libertad Market is one of Mexico's largest covered markets, with around 40,000 square meters of shopping space. Shoppers can find all sorts of goods, arts, and crafts at over 2,800 stands.

The market was designed by architect Alejandro Zohn and first opened in 1958.

Shoppers will find endless groceries such as fresh fruits and vegetables. Visitors can shop for clothing items such as leather coats, sweaters, and embroidered clothes. You'll find other household and fashion items such as cozy blankets, shoes, and attractive bags. In addition, you can find items like electronics, movies, and music.

Stalls sell different crafts using materials such as silver, blown glass, ceramic, leather, and palm leaves. Shoppers can find arts and crafts from a variety of Mexican regions.

On the second floor, visitors will find various restaurants focused on Mexican dishes like torta ahogadas, pozole, and tacos.
Mercado de San Juan de Dios (Libertad Market) on Map
Walking Tours in Guadalajara, Mexico