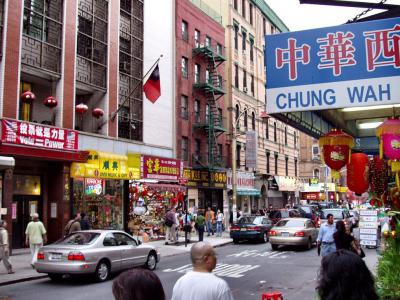 Mott Street, New York
From a tourist's perspective, Mott Street has the best that New York's Chinatown has to offer – a fantastic array of authentic Chinese food, cheap gift shops, tea houses, jewelry stores, fish and vegetable markets, as well as some remaining Italian businesses. From a resident's perspective, Mott Street is home. After more than a century, it continues to be home to Chinese immigrants and their American-born children. Unlike many other Chinatowns throughout the U.S., this one is an actual community where families are born and raised and continue to thrive.

The best part, though, is the food. You have to go eat at WO HOP on the south side of Mott street: they are a Chinatown institution and open very late (4:30am) for all you night owls. There are two parts: the upstairs (newer, with booths) and the downstairs (older, with plain tables and chairs). While the environment in both is very basic, the food is delicious with just about every Chinese dish you can think of on the menu – try the house special fried rice and/or the shrimp in lobster sauce. Large portions, so come hungry!

Walk further north to Grand Street and you'll be in vegetable heaven, as shop after shop sells fresh produce at great prices. For an incredible selection of Italian meats, handmade cheeses, olive oil, vinegar, spices, etc., the family-owned DI PALO'S FINE FOODS (Mon-Sat: 9am–7pm; Sun: 9am–6pm), which represents all 20 regions of Italy, is worthy of a special trip. They provide personalized service and will gladly answer any questions and give suggestions (ask for free samples if you wish); in addition, there's a delivery system that allows sending products to friends in other states.

As you walk along Mott and other nearby streets, pay attention to the Eastern decorative motifs on the buildings: sunbursts, floral swirls, shells, and human faces.
Walking Tours in New York, New York
Useful Travel Guides for Planning Your Trip
---