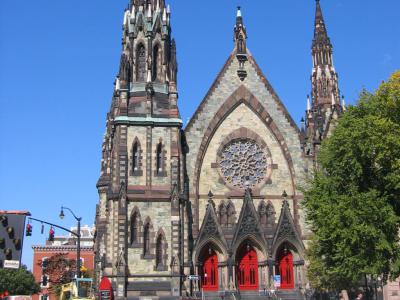 Mt. Vernon Place United Methodist Church, Baltimore
Mount Vernon Place United Methodist Church in Baltimore is a significant historical landmark with impressive architectural design and a rich congregation history. The church, completed in 1872, was designed by Thomas Dixon, a Baltimore architect, in the Norman-Gothic style.

Its striking green serpentine stone, buff, olive and red sandstone, polished granite columns, and carved designs taken from nature make it an architectural masterpiece. The many gothic details of flying buttresses, a tower, and arches are purely aesthetic in function, as the building is constructed over an iron framework. The church's interior is also notable for its iron supporting columns, carved wooden beams, and stained glass cross window over the pulpit.

The congregation of the Mount Vernon Place United Methodist Church has a rich history of providing spiritual and secular services to Baltimore. The group began in a building on Lovely Lane in 1784, and the current church on Mount Vernon Place is the congregation's fourth home.
During World War II, the church provided beds, food, and entertainment to servicemen returning from the front. In the 1970s, the church led efforts to help runaway teenagers and victims of drug abuse, and they began a service organization to engage young Baltimoreans in helping their city.

In 1971, the Mount Vernon Place United Methodist Church and Asbury House were listed on the National Register of Historic Places. The Asbury House, designed by Baltimore architects Niernsee & Neilson, was built around 1850 and became the home of George von Lingen, the German consul in Baltimore in 1893. Von Lingen renovated the second-floor library, which features a ceiling painting and intricate carvings done by German workers.
The Mount Vernon Place United Methodist Church is a remarkable historical and architectural landmark that showcases the rich history of Baltimore and the significant contributions of its citizens.
Mt. Vernon Place United Methodist Church on Map
Walking Tours in Baltimore, Maryland