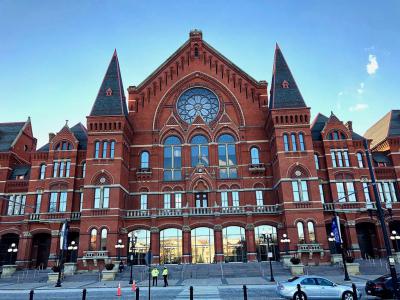 Music Hall, Cincinnati
Music Hall is Cincinnati's performance hall for classical arts. Music Hall is the venue for the Cincinnati Ballet, Symphony Orchestra, Opera and Pops Orchestra.

The building was completed in 1878. It was designed by Samuel Hannaford in the Victorian Gothic Revival Architectural Style. It is distinctive from other performance halls in that the building is actually three separate buildings: Music Hall and the North and South Exposition Buildings.

The buildings feature sandstone carvings, a pitched gable roof and a large rose window. Music Hall originally had intricately carved brickwork, but most of the details were destroyed during a renovation of the building.

Those who enjoy sites that are reputed to be haunted should pay particular interest to Music Hall. It is said to be one of the most haunted places in America due to the fact that it was built over a pauper's cemetery.

Music Hall was named a National Historic Landmark in 1975. It has also been placed on the list of America's 11 most endangered historic places.
Walking Tours in Cincinnati, Ohio