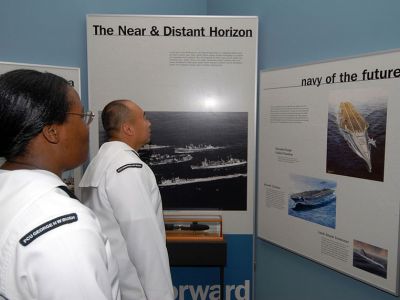 Naval Academy Museum, Annapolis
(must see)
The United States Naval Academy Museum is the Annapolis public maritime museum, located in Preble Hall, within the Academy premises. The museum was founded in 1845 as the Naval School Lyceum. In 1849, President James K. Polk directed the Navy's collection of historic flags be sent to the new Naval School at Annapolis for care and display, establishing one of the museum's oldest collections.

After the Civil War, the Navy Department began forwarding many types of objects to the Naval Academy Lyceum, including trophies of war, items from exploration/survey expeditions, diplomatic missions, and naval related art. The Lyceum also became the repository for the collections of the U. S. Naval Lyceum at the New York Navy Yard in 1892, and received an extensive collection from the Boston Naval Library and Institute in 1922, significantly growing the collection.

The Naval Academy Lyceum of the 19th and early 20th centuries was located in several places around the Academy Yard, before the construction of Preble Hall in 1939. From 2007–2008, Preble Hall underwent a complete renovation to turn the building into a modern museum, which officially reopened in the summer of 2009.

Today, the museum occupies about 12,000 square feet (1,100 m2) of space, made up of four galleries, whose collections depict American naval history and partly the naval forces of other countries. These include thousands of 2D and 3D objects, such as flags, uniforms, weapons, medals, books, instruments and photographs, as well as art. Major collections are The Rogers Ship Model Collection, the Naval Academy Art Collection (featuring circa 1,200 paintings), the Malcolm Storer Naval Medals Collection (including ancient coins) and The Beverley R. Robinson Collection (prints of naval history).

Operation Hours:
Monday - Saturday: 9 am -5 pm; Sunday: 11 am - 5 pm; closed on Thanksgiving Day, Christmas Day, and New Year's Day.
Sight description based on Wikipedia.
Naval Academy Museum on Map
Walking Tours in Annapolis, Maryland