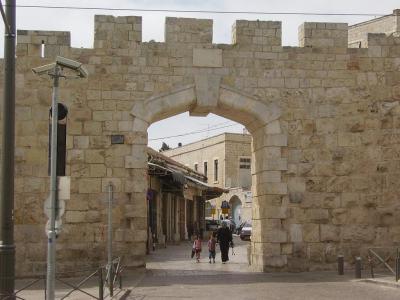 New Gate, Jerusalem
The New Gate is the newest and the only entryway in the wall of Jerusalem's Old City that is not part of the original 16th-century design. This arched crenelated gate was built in 1889 in the waning days of the Ottoman Empire, and should not be confused with the New Gate of the Second Temple mentioned in the Book of Jeremiah that had served as entrance to the Great Sanhedrin's Hall of Hewn Stones, previously called the Benjamin Gate. Standing at 790 meters (2,590 ft) above sea level, it marks the highest point of the Old City wall.

The gate also goes by the name "Bab es Sultan Abd ul Hamid" that was used by the Arab workers for the Ottoman sultan Abdul Hamid II who made the construction possible yielding to the request of the French Consul to provide access to the Old City from the Notre Dame Hospice completed in 1886, and also to allow Russian pilgrims, living at the Russian Compound (outside the Old City walls), direct access to the Church of the Holy Sepulchre in the Christian Quarter.

Throughout the 20th century, the New Gate saw repeated attempts to destroy or damage by belligerent parties. In 1929, an unprovoked Arab attack left several Jews killed between the New and Damascus gates. In 1945, the Israeli paramilitary group attempted to demolish part of the wall next to the New Gate using a massive device that luckily failed to go off. During the 1948 Arab-Israeli war, the Jewish demolition charge intended for the gate was detonated by a stray artillery shell that set the Arab wooden barricade in front of the New Gate on fire. Subsequently, the Jordanian occupation administration sealed off the gate, and it wasn't until 1967 that it was reopened again by the Israeli Army following the Six-Day War.

Nowadays, the gate is supervised by the Israel Antiquities Authority, while the land around it is largely owned by the Latin Patriarchate and the Franciscan Order which have refused to sell it to the Israeli authorities. In the current urban layout of Jerusalem, the New Gate provides the quickest route from the Old City to West Jerusalem.
Walking Tours in Jerusalem, Israel
Useful Travel Guides for Planning Your Trip
--- 16 Uniquely Israel Things to Buy in Jerusalem
Modern day Jerusalem is a mosaic of neighborhoods, reflecting different historical periods, cultures, and religions. The influx of repatriates in recent years has made the cultural and artisanal scene of the city even more colourful and diverse. To find your way through Jerusalem's intricate...