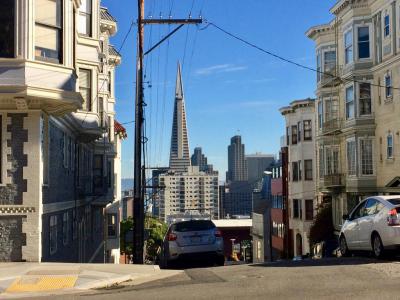 Nob Hill, San Francisco
The embodiment of "swank" in San Francisco's history, Nob Hill is perched on a hilltop above Union Square and Chinatown. The neighborhood elegantly preserves some of the character brought to it by the early railroad and financial barons who built their mansions here.

One of the prime reasons why Nob Hill attracted (and still does) affluent classes is its centralized location. Over the years, it was once home to some of the most prominent names in America's political and business history, including Leyland Stanford (governor of California and US Senator in the late 1800s), Collins Huntington (19th-century industrialist and railway magnate), as well as Mark Hopkins and Charles Crocker, founders of the Central Pacific Railroad. Strolling the area, you can get a glimpse of their grand mansions poised with majestic galore atop the Hill.

After the 1906 earthquake and ensuing fire, some mansions were revamped into luxury hotels. The most expensive of them, such as Fairmont, Hopkins, Stanford Court, or Huntington, stand literally on the ruins of the 1906 disaster.

Presently, the neighborhood attracts thousands of visitors each year, who either walk all the way up (if fit) or drive or take a cable car to wander around, see the architecture, and, perhaps, stroll occasionally into the Fairmont Hotel lobby for a drink. You can also admire the scenery at the Top of the Mark in the Mark Hopkins Hotel, have lunch or dinner at one of the several local restaurants, or enjoy a peaceful interlude in the beautiful Grace Cathedral. There is also pleasant Huntington Park with the Tortoise Fountain worth checking out, where you can sit, stretch your weary feet and relax.
Walking Tours in San Francisco, California
Useful Travel Guides for Planning Your Trip
--- 14 Souvenirs That Scream San Francisco
Home to many historic landmarks, such as Golden Gate Bridge, Chinatown and Alcatraz, San Francisco is closely associated with many iconic images of the American culture, such as Levi's jeans, baseball, and hippie movement. Modern Frisco carefully preserves its legacy by keeping it alive... Divine Artisan Chocolates in San Francisco
San Francisco is home to the most delicious artisan chocolates! From the historic Ghirardelli Chocolate Factory to New American TCHO chocolates, there are many local chocolate boutiques and factories to visit where you might be treated to a few samples. From exotic flavors such as lavender-walnut...