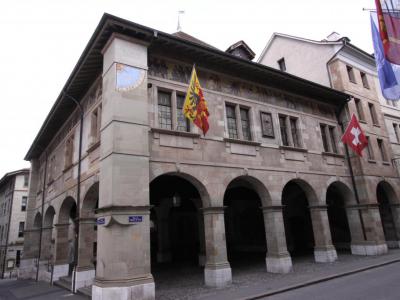 Old Arsenal (Ancien Arsenal), Geneva
The Old Arsenal (French: Ancien Arsenal) is a former militarily installation in the heart of Geneva's Old Town, located just a stone's throw from the Town Hall. Back in the day, it was used for storing arms and gun powder, but today serves a more peaceful function, housing the State Archives.

The building's architecture, resembling a fortified mansion with five cannons set to defend the city against the attackers, recalls Geneva's distant warlike past. Under the Romans, this site was an open-air market, and was covered only in the early 15th century. In 1588, arcades were added, upon which a granary was built that was eventually transformed into a military depot, between 1720 and 1877.

Presently, underneath these arcades is a compact artillery museum with a collection of five period cannons, similar to those used to defend ramparts of the city, plus three colorful, battle-themed mosaics depicting key periods in the local history, namely: the arrival of Julius Caesar in 58 BC; the Fairs of the Middle Ages; and the reception of Huguenot refugees after the Revocation of the Edict of Nantes.

Also, each year on December 11 or the closest weekend, visitors to the Old Arsenal can treat themselves to some vegetable soup served here in commemorative bowls during the historic Escalade festival, celebrating the ill-fated attempt to conquer the Protestant city of Geneva by the Catholic Duchy of Savoy in 1602-1603.
Old Arsenal (Ancien Arsenal) on Map
Walking Tours in Geneva, Switzerland