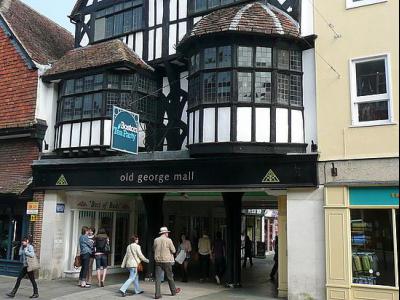 Old George Inn & Mall, Salisbury
The Old George Inn on High Street was built as a "coaching" inn, in 1364. The Inn was named for its association with the Guild of Saint George. The Guild was formed in 1306 by the mayor and corporation of the city.

In 1645 Oliver Cromwell spent the night at the Inn on his way to meet his army. Samuel Pepys, diarist and "Father of the British Navy", wrote of the Inn, "very good diet, but very dear." He had a row with the landlady and moved to cheaper digs next day.

Inside the Old George is a warren of hallways, warped floors and steep, uneven stairs. A fire door from the mall opens on the Inn banqueting hall. Wooden pillars and beams frame a minstrel's gallery and a Jacobean mantelpiece.

Overhead are the carved heads of King Edward II and Queen Isabella. Isabella is said to have murdered the king. But here they are, together again. Charles Dickens refers to the Inn in "Martin Chuzzelwit." William Shakespeare and company rehearsed "As You Like It" on the mall. The 14th century inn contrasts sharply with the style of the mall.

The Mall is home to many high-profile shops and stores, including: Marks & Spencer, WH Smith, and H&M. There is an onsite shoppers' car park on New Street with access to the Mall. There are cafes within the Mall including: Pret a Manger, Costa Coffee and Cafe Rouge. After the Cathedral Close, take a walk to the Mall for a coffee/shopping break.
Old George Inn & Mall on Map
Walking Tours in Salisbury, England