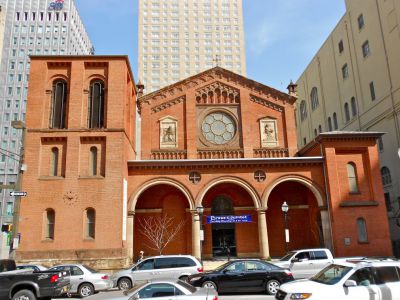 Old St Paul's Church, Baltimore
Old St. Paul's Church, also known as St. Paul's Protestant Episcopal Church, is a historic Episcopal church. The church was founded in 1692 as the parish church for the "Patapsco Parish," which was one of the original 30 parishes of the Church of England in colonial Maryland. Today, it is part of the Episcopal Church, U.S.A. and the Anglican Communion.

The present church building was designed by the renowned architect Richard Upjohn, who is best known for his Gothic Revival style. However, the design of Old St. Paul's Church features an eclectic mix of architectural elements. The exterior facade, for example, combines 12th-century Italian elements with Romanesque elements on the interior.

One of the most notable features of the exterior facade is the two bas-reliefs of Christ and Moses, which were executed by the Italian sculptor Antonio Capellano. These bas-reliefs were originally part of the facade of the previous Robert Cary Long church.

Other elements from the 1817 structure include the walls of the Federal period building, a stained glass window of the risen Christ over the entrance, a marble baptismal font designed by Maximilian Godefroy, and the Bishop's chair given to St. Paul's in 1815.

Old St. Paul's Church has had many prominent members throughout its history, including Samuel Chase, John Eager Howard, Thomas Johnson, and William Donald Schaefer, who served as mayor of Baltimore and governor and comptroller of Maryland.

In recognition of its historical significance, St. Paul's Protestant Episcopal Church was listed on the National Register of Historic Places in 1973. It is also included within the Cathedral Hill Historic District and the Baltimore National Heritage Area.
Old St Paul's Church on Map
Walking Tours in Baltimore, Maryland