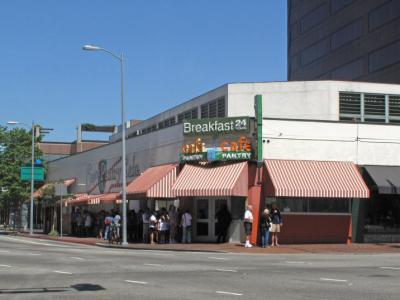 Original Pantry Cafe, Los Angeles
The Original Pantry Cafe (or just The Pantry, as the locals call it) is a historic restaurant in Downtown LA that claims to never have been closed or without a customer since its opening in 1924. This claim is also attributed to the fact that the founder, Dewey Logan, never refused a customer even if they were short on money.

When it changed locations, in 1950, to make room for a freeway off-ramp, the place served lunch at the original location – at 9th Street and Francisco Street, – and then served dinner – at the new location at 9th Street and Figueroa Street – the same day. Still, this iconic LA institution did close once – on the day John F. Kennedy was assassinated. Otherwise, it operates 24 hours a day, seven days a week, making it a favorite spot for late-night diners, locals, and tourists alike.

Those walking in will be astonished by the restaurant's old feel – from the 1900s paintings to the four different layers of flooring. Indeed, the Pantry has a long and eventful history. During the 1960s and 1970s, the restaurant was a popular hangout for celebrities and politicians, including Richard Nixon and Tom Bradley. Bill Clinton famously stopped by for a late-night meal here, in 1992, during his presidential campaign.

Currently owned by former Los Angeles mayor Richard Riordan, the eatery is popular for its no-frills and a classic American food menu that has remained largely unchanged over the years. Their breakfast (available all day) is so big that there is no need for lunch; it features all the usual favorites, such as wonderful sourdough bread, eggs, omelets swimming in cheese, French toast and bacon, sausage, or a ham steak that doesn't quite fit on the plate. And don't forget the hash browns grilled to greasy perfection either.

Despite its popularity, the restaurant has never accepted credit cards and has no air conditioning, keeping its original old-school charm. With its hearty portions, classic diner atmosphere, and around-the-clock service you won't leave hungry, that's for sure. And with all the cool surroundings, everything tastes better here. Comforting comfort food in a timeless and comfortable spot!
Original Pantry Cafe on Map
Walking Tours in Los Angeles, California
Useful Travel Guides for Planning Your Trip
---