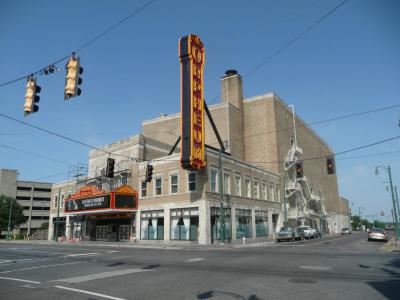 Orpheum Theatre, Memphis
(must see)
Located on South Main Street, the Orpheum Theatre is one of the last movie palaces from the 1920s still in existence. Originally built in 1890, it was known as the Grand Opera House. Today it is a home to the Ballet Memphis and Opera Memphis troupes.

Broadway, film, and concerts are staged here on a regular basis. Cats, Mamma Mia, and Joseph and the Amazing Technicolor Dreamcoat are just a few of the shows that have graced the Orpheum's stage over the years.

The theater has staying power. It survived a 1923 fire, bankruptcy, demolition, and the decline of the city. Through all of its trials, the Orpheum has rebounded and today remains one of the "South's Finest Theatres." In 1976, it underwent a $5 million renovation that restored the theater to its former 1928 glory.

It is rumored that the building is haunted by two ghosts. One of the ghosts is a nine year old girl named Mary and the other is a masked figure who lives in the air ducts above the house. Mary likes to slam doors and make lights flicker. The ghost with no name likes to wave at audience members.

The theater is available for rental and offers many programs to educate the public about the arts. In addition, tours are available for groups at different times throughout the year.
Walking Tours in Memphis, Tennessee