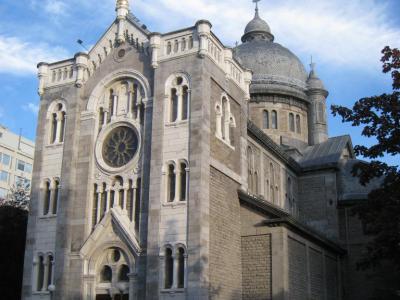 Our Lady of Lourdes Chapel (Notre-Dame-de-Lourdes), Montreal
Our Lady of Lourdes Chapel, also known as Notre-Dame-de-Lourdes, is a magnificent religious landmark located in downtown Montreal. The chapel holds a special place in the heart of its creator, Napoléon Bourassa (1827-1916), an artist-apostle who poured his love and devotion into every aspect of its design and construction.

The Chapel of Our Lady of Lourdes is built in the Romano-Byzantine style. Its interior decoration guides the eye to the center of the dome, which portrays the proclamation of the dogma of the Immaculate Conception. This architectural masterpiece surpasses previous religious art in Canada.

On April 30, 1881, the Chapel of Our Lady of Lourdes was opened for worship. Since then, it has become a place of pilgrimage and a sanctuary of prayer and peace. The chapel offers a serene refuge where the Virgin Mary welcomes pilgrims from across Quebec and beyond.

Entering the chapel, one is mesmerized by its architectural beauty. The single nave showcases a barrel vault supported by gray marble pilasters with engaged columns. Transverse arches add support and a touch of grandeur. Trefoil windows bring in ample natural light, illuminating the detailed decoration that harmoniously follows a Mariological theme.

The colors used throughout the chapel blend together harmoniously, culminating in the hemisphere of the dome, which is supported by four pendentives. Each pendentive showcases a painted angel, seemingly in contemplation of their Queen. At the apex of the dome, against a backdrop of stars and cherubim, stands the figure of Mary, the focal point of devotion and reverence.
Our Lady of Lourdes Chapel (Notre-Dame-de-Lourdes) on Map
Walking Tours in Montreal, Canada
Useful Travel Guides for Planning Your Trip
--- Montreal Souvenirs: 15 Trip Mementos to Bring Home
The outpost of Frenchness in North America (and the world's 2nd largest francophone city after Paris), Montreal is the meeting point of the New and Old World styles, the collision of the French, English and Aboriginal cultures. The historical and ethnic uniqueness of the city is seen throughout...