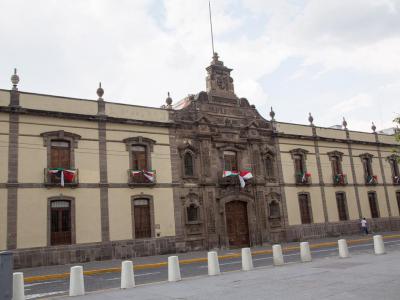 Palacio de Justicia (Palace of Justice of Jalisco), Guadalajara
The Palace of Justice of Jalisco was originally built in 1588. The palace building was originally used as the main building of the convent and temple of Santa Maria de Gracia. The building was then used for several different institutions until 1952 when it was remodeled and became the state judiciary.

The palace has a central courtyard with orange trees. In the interior, visitors will find several statues and an impressive mural. The statue on the left of the staircase depicts Mariano Otero, who was a writer, politician, and Guadalajara resident. The statue on the right of the staircase shows Ignacio Vallarta, a governor of Jalisco.

Guillermo Chavez Vega painted a famous mural that depicts scenes showing Mexico's history. The mural depicts prominent Mexican leaders Benito Juarez, Melchor Ocampo, and Valentin Gomez Farias. The mural shows Mariano Otero defending the town and Ignacio Vallarta holding a flag. In addition, the mural shows a female figure welding a sword.
Palacio de Justicia (Palace of Justice of Jalisco) on Map
Walking Tours in Guadalajara, Mexico