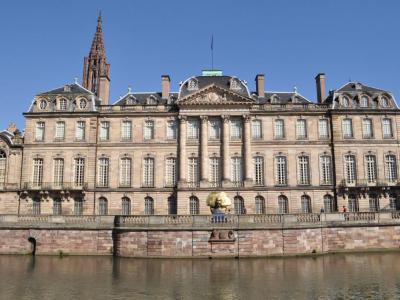 Palais Rohan (Rohan Palace), Strasbourg
(must see)
Built right next to the towering Strasbourg Cathedral, Rohan Palace was used to house the prince-bishops and cardinals of the House of Rohan. Rohan was a French noble family from Brittany.

It has been considered a masterpiece of French Baroque architecture since it was finished in 1742. Many monarchs have visited the premises, including Louis XV, Marie Antoinette, Napoleon and Joséphine, and Charles X. It is one of the most important architectural and historic buildings in the city.

These days, the Palace is home to three incredible museums--the Archaeological Museum in the basement, the Museum of Decorative Arts on the ground floor, and the Museum of the Fine Arts on the second and third floors. There is also a municipal art gallery in one wing.

The Palace is still used for major diplomatic events. In 1985, American President Ronald Reagan dined in the Palace while visiting European Parliament. In 2009, US President Barack Obama met with French President Nicolas Sarkozy.

The city's Archaeological Museum is located in the basement. Many artifacts from the original collection were destroyed in the 1870 Siege of Strasbourg. The new collection has been recreated and put together since then. There is a particular focus on Argentoratum, the Roman settlement that eventually became Strasbourg.

The Museum of Decorative Arts lies above on the ground floor. The collection was established in 1887 from the collections of Kunstgewerbe-Museum Hohenlohe. Here you'll see original furnishings from the cardinal's apartments. Of special interest are locally produced porcelains and clockmaking. Parts of the original 1354 astronomical clock from the Strasbourg Cathedral are housed here and on display.

The two floors above are home to the Museum of Fine Arts. The original collection was established in 1803 but destroyed in 1870. Today you'll see a fine collection of European art spanning from the 13th to 19th centuries. Italian, Flemish, and Dutch painters are highly featured. Some highlights include Botticelli, Jacob Jordaens, and Hans Memling.

Why You Should Visit:
The Palais de Rohan is a highlight of Baroque architecture in the city. Visiting the Palace is its own history lesson, with a glimpse at how the city's aristocrats lived in luxury.
Beyond the Palace itself, visiting the three museums is worth your time. The museums span such various themes and periods that they have a little something for everyone.

Tips:

All museums share one common entrance, but once in, you can choose your destination. When you buy a ticket to one museum, you receive a discount on the subsequent admission. This setup means that you can spend less and only visit the museum or museums that interest you the most.
Palais Rohan (Rohan Palace) on Map
Walking Tours in Strasbourg, France