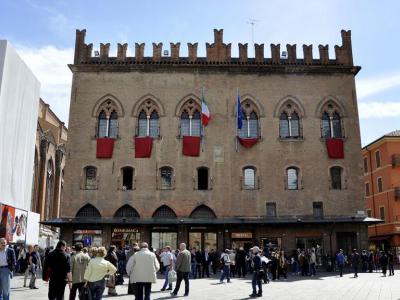 Palazzo dei Notai (Notary Palace), Bologna
The Palazzo dei Notai was built in 1287 with many restorations over the years. The original design was created by Antonio di Vicenzo. It was redesigned in 1381 by Berto Cavalletto and Lorenzo da Bagnomarino.

In 1437, Bartolomeo Fioravanti designed a new section of the building, but then fell into ruins. It was restored and redesigned once again in 1908 under the guidance of Alfonso Rubbiani who recreated its once medieval appearance.

The building was the site of the notary order, which is noted by the three inkwells on the court of arms. Most visitors to the Palazzo dei Notai will only see the exterior as the building remains closed most of the time. However, those who peek through the windows will see some of the 15th-century frescoes still in place.

The Palazzo dei Notai is only open during special events, but visitors to Bologna should still make sure to stop and admire the beauty of the building.
Palazzo dei Notai (Notary Palace) on Map
Walking Tours in Bologna, Italy