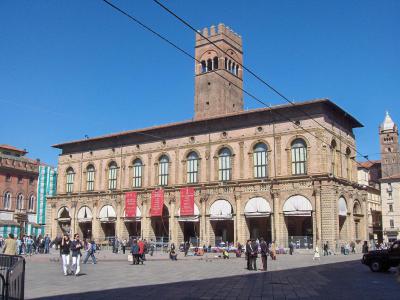 Palazzo del Podesta (Podesta Palace), Bologna
The Palazzo del Podesta, or Podesta Palace, is a historical landmark that is well known to fans of history and architecture. The building was erected in 1200 as the first seat of government for the city of Bologna. It was quickly discovered that the building was too small for this purpose, which led to the construction of the Palazzo Re Enzo.

In 1453 a rebuilt was carried out to replace the bell and reconstructed the original Gothic façade in the Renaissance style. Today this historical palace continues to impress. Particularly meaningful is the Voltone del Podesta, which has acoustics that allow individuals to hear one another speaking at a whisper from opposite sides of the vault.

Architecture lovers should check out the pillars of the portico. They are carved with 3,000 unique rosettes. They should also pay special attention to the Campanazzo, a bell that was brought to the bell tower in 1453.

The palace is on the Piazza Maggiore near the Palazzo Comunale. The palace is home to the tourism office of Bologna as well as a number of cultural and artistic displays. Visitors can tour the Palazzo del Podesta during special events. They can enter the tourism office on Monday through Saturday from 9 am to 7 pm and on Sundays from 10 am to 5 pm.
Palazzo del Podesta (Podesta Palace) on Map
Walking Tours in Bologna, Italy