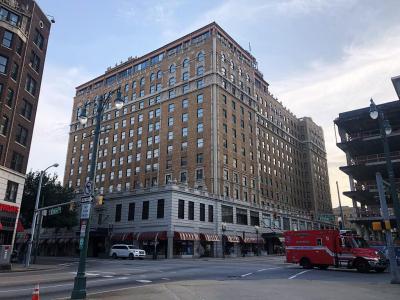 Peabody Hotel, Memphis
(must see)
The Peabody Hotel is a four star hotel best known for its most famous residents, the Peabody Ducks. Each day at 11 am, the ducks march into the hotel lobby for a swim in the fountain. They are accompanied by the duck master and the King Cotton March by John Phillip Sousa. The ducks are a popular attraction and hundreds of people line up to see them every day. In addition, many celebrities have acted as an honorary duck master throughout the years.

The duck tradition began in 1932 when the general manager and his friend placed live decoy ducks in the hotel lobby fountain as a joke. The public liked it and the tradition continued with five mallard ducks, one male and four female. The ducks work an average of three months before they are retired.

The original Peabody Hotel was built by Robert Campbell Brinkley in 1869 and was located on the corner of Main and Monroe Streets. Its most famous resident was Jefferson Davis, the former President of the Confederacy.

The current hotel was designed by Walter W. Ahlschlager and opened in 1925. In 1965, the hotel went bankrupt and was sold to the Sheraton Hotels, renamed the Sheraton–Peabody Hotel. After the Sheraton closed in 1973, Isadore Edwin Hanover bought the hotel and sold it to his son-in-law, Jack A. Belz. After years of restoration work, the building reopened in 1981.

The Peabody Skyway, a top floor that contains a lounge, bar, and ballroom, was a popular hangout during the 1940s. The hotel Plantation Roof offers great views of the Memphis skyline and is the site of the famous Thursday night "Rooftop Parties."

Bernard Lansky's store, located in the hotel's lobby, is legendary. Elvis used to called him "Mr. Lansky," while faithful customers call him "Mr. B.", and the world knows him as "Clothier to the Stars". Elvis collaborated with Mr Lansky throughout the course of his career. When he first bought a shirt from Lansky it the 1950s, it cost just $3.95. As Elvis became more famous, Lansky was named his PR man all over the world. Frank Sinatra, Carl Perkins, and B.B. King have also shopped at Lansky at the Peabody.

***Elvis Presley Walk***
This hotel is where Elvis went for his senior prom. He is rumored to have told his date that he didn't dance and was incredibly nervous the whole night – a hard to believe line from a man who swayed his hips and made the girls swoon.

In the Hotel's Memorabilia Room one can still see the contract signed by Elvis Presley in the hotel lobby when he left the Sun Records for RCA.
Walking Tours in Memphis, Tennessee