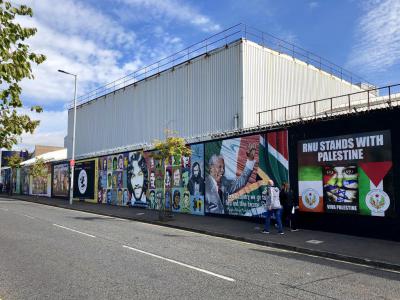 Peace Wall, Belfast
(must see)
The Belfast Peace Walls are barriers that separate Protestant and Catholic neighborhoods through the city. They were originally built in 1969 to establish peace by separating sectarian groups. Today, they are popular tourist attractions.

Arguably, the most famous Peace Wall is located between Shankill Road and Falls Road. There is also a large Peace Wall along Cupar Way, which has become a canvas for local artists. Graffiti and street art intermingle on the Peace Walls to provide color to the city while also reminding citizens and tourists of the strife of the country.

The walls were originally meant to be temporary structures. Ironically, the structures have not only stayed in place, but have increased in number. The most recent Peace Wall was constructed in 2017. There are now 59 in the city.

The Belfast City Council began a plan to remove the Peace Walls, but the vast majority of residents believe they continue to help quell violence. Still, the plan is for all Peace Walls to be removed in the future.
Walking Tours in Belfast, Ireland