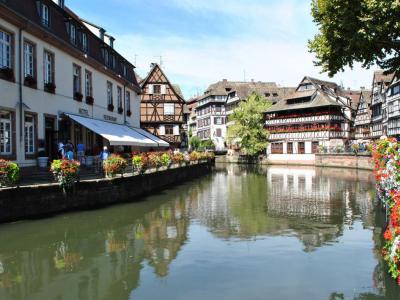 Petite France (Little France), Strasbourg
(must see)
Petite France is an area in Strasbourg that is often called the Venice of the North because of its narrow streets and canals. It is a delightful area to visit as it takes you back to Medieval Strasbourg.

In the Middle Ages the beautiful half-timbered houses were the homes of fishermen, millers and tanners, and indeed many of the streets bear the names of the crafts carried out: Millers Street, Tanners Ditch and Lace Street, for example. The houses have the traditional tiered sloping roofs and hides were once hung up to dry on the topmost rafters.

In the late 15th century a hospice was built on the island for small-pox victims and later for French soldiers suffering from syphilis – which the Germans called it "French Disease" to stop the local girls from sleeping with the soldiers! The area became known as "Little France", more out of derision than patriotism. The name stuck and today it is one of the most expensive quarters in the city.

Just to the west of Petite France, you can visit the Barrage Vauban – a weir that crosses the River Ill. It was built in 1686 from the plan by Marquis Vauban. The weir has two stories with wonderful sculptures on the main level, as well as a roof terrace where you can take superb photos of Petite France.

Why You Should Visit:
The most romantic neighborhood in Strasburg by far, especially at nightfall. There are also plenty of shops and places to try authentic French dishes. Places are open late and buildings are lit up after dark.

Tip:
Walk around here early in the morning if you wish to get photos without thousands of tourists in your shots. If you have issues walking on cobblestones, you can also take the boat or a little touristic train that goes around the Petit France.
Petite France (Little France) on Map
Walking Tours in Strasbourg, France