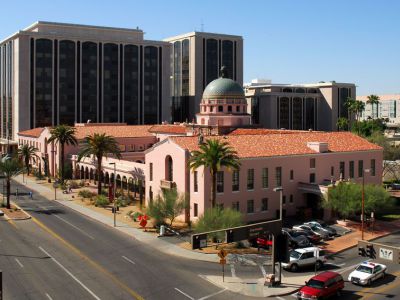 Pima County Courthouse, Tucson
The Pima County Courthouse is a historical building that once served as the main courthouse in the region. From 1930 through 1977 it was home to the Pima County Superior Court. After that point, and through 2015, the courthouse was home to the Pima County Consolidated Justice Court.

Today, tourists in Tucson can visit the Pima County Courthouse to marvel at the Mission Revival and Spanish Colonial Architecture. The building recently underwent renovations that transformed the building to its original adobe color. Previously, the building was known for the pink paint, which was applied in the early 1950s.

The courthouse isn't just beautiful on the outside. Tourists can enjoy the interior of the building while they visit the offices of Southern Arizona Heritage and Visitor Center, which are open daily.

The Pima County Courthouse is on the National Register of Historic Places. One of the most famous outlaws to be tried in this building was gangster John Dillinger. Dillinger and his gang were caught in Tucson in 1934. For four days, visitors were able to pay a fee to walk by the cell to catch a glimpse of the infamous gangster.

Dillinger wasn't the only famous face to grace the halls of the Pima County Courthouse. Actor Clark Gable was tried at the courthouse and found guilty of negligence in a car accident. Some 40 years later, actor Johnny Depp also faced a traffic violation in the courthouse.

The building has also been used for films, including the 1976 version of "A Star is Born" and the 1980 comedy "Stir Crazy."
Pima County Courthouse on Map
Walking Tours in Tucson, Arizona