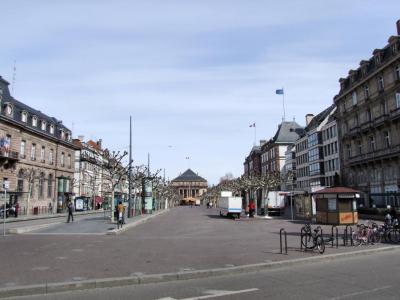 Place Broglie (Broglie Square), Strasbourg
Many of the biggest sights in Strasbourg are centered around Broglie Square. This square is large and rectangular, and it lies in the center of the Grand Île city center. You'll find the opera house, the city hall, the Governor's Palace, Prefect's Palace along its edges. There's also the Strasbourg branch of the Bank of France and the Mess building.

With its central location and many points to see, it's no wonder that Place Broglie is a meeting place and point of convergence in the city. The city's tram lines stop here. It is also here that the city's annual Christmas market is held.

You'll see a wide variety of architectural styles around the square, each of which tells a little bit of Strasbourg's story. Among the styles you can count Renaissance, Rococo, Nouveau, Historicism, and Alsatian.

There are also several monuments you will notice around the square. Near the base of the Bridge Theatre, you will find the Janus fountain. Built in 1988, it was dedicated to the 2000th anniversary of the first recorded mentions of Argentoratum which was Strasbourg's name in Roman times. Argentoratum was first recorded as a military outpost in 12 BC.

Next to the Opera House, there is a sandstone obelisk with bronze statues dedicated to Philippe Leclerc de Hauteclocque and the Liberation of Strasbourg during World War II. This monument was dedicated in 1951.
Place Broglie (Broglie Square) on Map
Walking Tours in Strasbourg, France