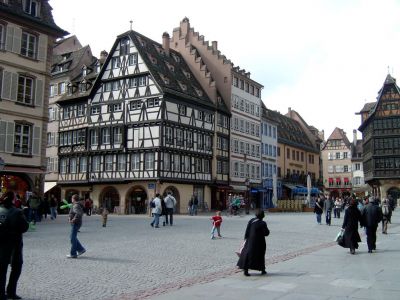 Place de la Cathédrale (Cathedral Square), Strasbourg
The Cathédral Square lies just north and west of the Strasbourg Cathedral. It is one of the best places to admire the exterior of the magnificent Rayonnant Gothic cathedral. The north side of the building, adjacent to the square, has some of the most impressive details and ornamentation.

The cathedral was begun in 1015, with significant contributions by architect Erwin von Steinbach starting in 1277. Work was continued by his son and then his grandson. The building was completed in 1439.

The impressive western face of the cathedral is best viewed from the square. Here you'll get a great view of the rose window. The three west portals each have particular themes to their decoration. The left shows the infancy of Christ, the central depicts the redemption, and the right shows the Last Judgement. The sculptures date to the 13th century.

As seen from the Cathedral Square, one of the most prominent features is the octagonal bell tower and spire. It is located on the northwest corner of the building. Despite plans for two towers, the building was completed with only one. The tower initially featured a Virgin Mary statue on the top, but this was replaced by a fleuron ornament in 1488.

At 142 meters (466 feet), the cathedral was the world's tallest building for 277 years, from 1647 until 1874. Today it is the sixth-tallest church in the world and the tallest building anywhere built in the Middle Ages.

The northern and western sides of the Cathedral Square, opposite the church, are home to various boutique shops and cafés. The square connects to the Frères Street on the east and Mercière Street on the west.
Place de la Cathédrale (Cathedral Square) on Map
Walking Tours in Strasbourg, France