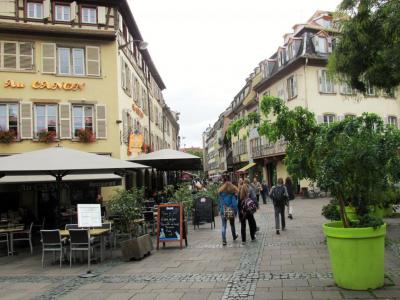 Place du Corbeau (Raven Square), Strasbourg
Situated near Corbeau bridge over the river Ill in Strasbourg, the eponymous Place du Corbeau (French: "Raven Square") for a long time – between the 14th and 17th centuries – was known infamously as Bei der Schindbrücke (German: "near the bridge of execution"). The reason for that being that the bridge in question was from where death-row criminals, locked up in a cage, were dropped into the river.

In 1849 the square took up its current name. In 1872, after the German annexation of Alsace-Lorraine, it was promptly renamed Rabenplatz (or Raweplatz in Alsatian) before resuming as Place du Corbeau in 1918. During the Nazi occupation of France, from 1940 to 1944, it once again became Rabenplatz, before the French title was restored following the Liberation.

Sadly, four beautiful houses that once stood proudly on the banks of the Ill, overlooking the square since the 16th-18th centuries, didn't survive World War II. Among those that did survive is Brasserie du Canon – an old brewery where Kronenbourg beer was first brewed by Jérôme Hatt in 1664.
Sight description based on Wikipedia.
Place du Corbeau (Raven Square) on Map
Walking Tours in Strasbourg, France