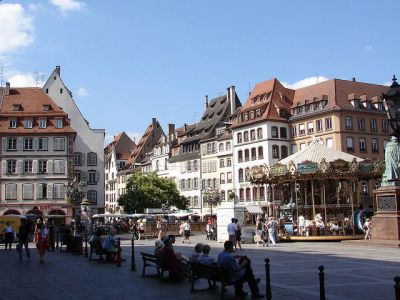 Place Gutenberg (Gutenberg Square), Strasbourg
(must see)
One destination that should be on your "must-see" list is the Place Gutenberg which lies in the center of medieval Strasbourg, not far from the Cathedral.

This large square is a favorite for locals and tourists alike as it has a lot of excellent cafes and restaurants. The Chamber of Commerce building occupies one side of the square and is easily recognizable with its Renaissance style, but with the sloping roof that is typical of Alsace, where winter snow is a way of life.

There is a 16th-century hotel on the square where Arthur Young was staying when revolutionists destroyed the city's magistrates records and where today art exhibitions are held on the ground floor. Another attraction is the flea markets that often set up around the statue in the center of the square.

The statue is, quite obviously, dedicated to Johannes Gutenberg; it was sculpted by David d'Angers in 1840 and features the famous printer holding a piece of parchment on which is inscribed the words "Et la lumière fut" (And behold, there was light) from the Book of Genesis. Around the base of the statue, bas reliefs depict notable scenes from Gutenberg's life.

Not many people know that apart from being the inventor of the first mechanical, movable printing press in Europe in 1439 and the publisher of the Gutenberg Bible in 1455, Gutenberg lived in Strasbourg between 1434-44, where he was an apprentice goldsmith, set to follow in his father's footsteps.
Place Gutenberg (Gutenberg Square) on Map
Walking Tours in Strasbourg, France