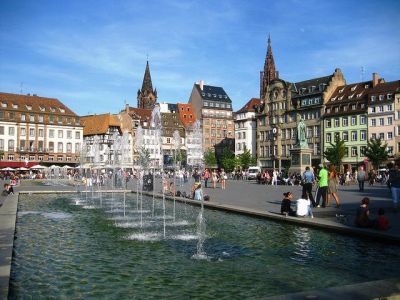 Place Kléber (Kleber Square), Strasbourg
(must see)
It is well worth taking time to visit the Place Kleber which is the biggest square in the heart of the city's commercial district. The square has been a central meeting place since it was laid out in the 14th century and it took its name in 1840 after the General Jean Baptiste Kleber, whose statue stands in the center of the square. The general served in Napoleon's army during the campaign in Egypt in 1798 and 1799. The statue was erected in 1838 by Philippe Grass.

When Napoleon returned to Paris, he named the Kleber Commander of the French Forces. Kleber was assassinated in 1800 in Cairo. His body was repatriated and kept in the Chateau d'If off the Marseille coast until being interred in his native Strasbourg thirty years later. The general's remains are in a vault under the statue.

An interesting building along the north side of the square is the Aubette building, built in 1772 by Jacque-François Blondel. Once a military post, it was given its name in the 19th century, from the dawn (aube) changing of the guard. In 1928 three avant-garde artists Jean Arp, Theo van Doesburg and Sophie Taeuber-Arp decorated the interior of the building. This work of art is often called the "Sistine Chapel of Abstract Art" for its artistic beauty. Nowadays, the Aubette building is an artistic and historical landmark with on Place Kléber and is enjoyed by locals and tourists alike. Admission to the building is free.
Place Kléber (Kleber Square) on Map
Walking Tours in Strasbourg, France