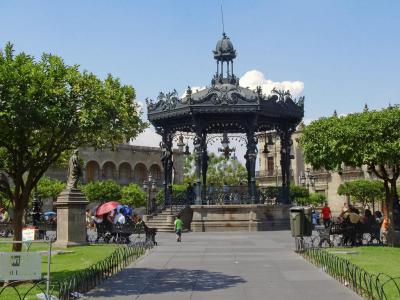 Plaza de Armas (Main Square), Guadalajara
Plaza de Armas is the main square of Guadalajara. It is located directly in the city's historic center. The square offers a variety of sights, such as the Guadalajara Cathedral and the Government Palace.

Mariachi bands frequent the Main Square. Those who wish to stay for a while to take in the vibrant square can do so on one of the many public, wrought iron benches. The rows of trees provide ample shade so even the hottest days can be enjoyed. The square is also lovely at night when it is lit by the lampposts and the lights of Guadalajara Cathedral.

The square was constructed in the late 19th century and remodeled in 1910. The bandstand in the center of the square is an art nouveau, wrought iron bandstand that was gifted by Mexican president Porfirio Diaz. The stage features eight pillars with female figures that represent different musical instruments. It was built in Paris by the Val D'Osne Art Foundries (Fonderies D'art Du Val D'Osne).
Plaza de Armas (Main Square) on Map
Walking Tours in Guadalajara, Mexico