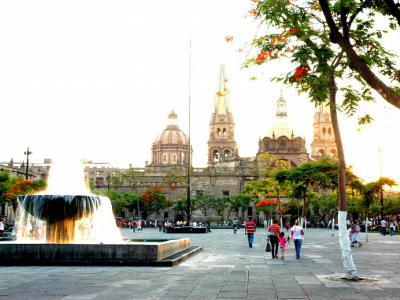 Plaza de la Liberación (Freedom Square), Guadalajara
(must see)
Freedom Square is dedicated to Miguel Hidalgo, who signed the Abolition of Slavery in 1810. The square features a bronze sculpture showing Miguel Hidalgo breaking the chains of slavery. Hidalgo also led the Mexican War of Independence and is known as the Father of the Nation.

Freedom Square features two impressive fountains designed by Ignacio Díaz Morales. The fountains look like two large cups, and the square is sometimes called Two Cups Plaza (La Plaza de Dos Copas).

Because of its large size, the square hosts many exhibitions and events. The square is also home to a Guadalajara sign, which is a popular backdrop for photos.

Freedom Square has a vibrant market where you can find clothing, pottery, ceramics, art, and souvenirs. The square also has several cafes with outdoor seating so you can grab a refreshment and enjoy people-watching.
Plaza de la Liberación (Freedom Square) on Map
Walking Tours in Guadalajara, Mexico