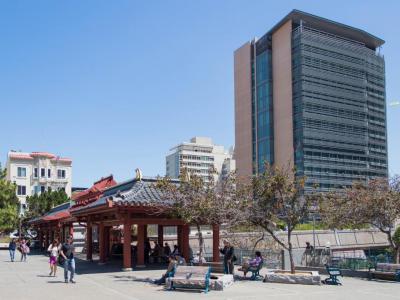 Portsmouth Square, San Francisco
San Francisco's first real city center, Portsmouth Square was born in the mid-1800s and now, to all intents and purposes, serves as Chinatown's living room/social club. When Captain John B. Montgomery came ashore in 1846 to seize the land – then called Yerba Buena – for the U.S., he raised his flag here and named the square after his warship; the spot where he first raised the Stars and Stripes is marked by the one often flying in the square today. Two years later, in 1848, the cry of "Gold! Gold at the American River!" here sent property prices and development skyrocketing as countless prospectors and entrepreneurs poured in.

The plaza is primarily worth visiting to simply absorb everyday life, with spirited games of Mahjong and Chinese Checkers played atop makeshift tables, and neighborhood children letting off steam in the playground (on weekends there can be classical music played on one-string violins, dances, and singing performances). A graceful addition is the Goddess of Democracy, a bronze replica of the statue made by protesters in Tiananmen Square, while nearby stands a small red pagoda-like structure set on the original site of the California Star newspaper's office, which carried the news of the earliest ore discoveries, and thus played a major role in the Gold Rush.

All in all, Portsmouth Square is a lively and important part of this great neighborhood, and an interesting piece of San Francisco's colorful heritage. For revisiting history, resting your feet, getting a snack or doing some light shopping, it is surely a sight to see.
Walking Tours in San Francisco, California
Useful Travel Guides for Planning Your Trip
--- Divine Artisan Chocolates in San Francisco
San Francisco is home to the most delicious artisan chocolates! From the historic Ghirardelli Chocolate Factory to New American TCHO chocolates, there are many local chocolate boutiques and factories to visit where you might be treated to a few samples. From exotic flavors such as lavender-walnut... 14 Souvenirs That Scream San Francisco
Home to many historic landmarks, such as Golden Gate Bridge, Chinatown and Alcatraz, San Francisco is closely associated with many iconic images of the American culture, such as Levi's jeans, baseball, and hippie movement. Modern Frisco carefully preserves its legacy by keeping it alive...