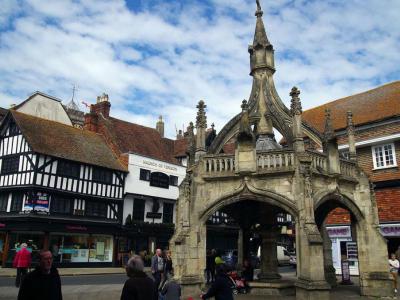 Poultry Cross, Salisbury
Poultry Cross is an ornate Gothic stone market cross in Salisbury. It was built in the 14th century and modified in the 18th century. It stands at the intersection of Silver Street and Minster Street. There were once four such crosses in Salisbury. Poultry Cross is the only one left.

The crosses of the past are Cheese Cross in the Cheese Market, Bernard's Cross for livestock and a wool and yarn cross in the Market Square. The current stone structure of Poultry Cross was built in the 15th century. It originally had flying buttresses. These were removed in 1711. The buttresses of today were installed in 1854.

The Poultry cross was originally used to sell birds. Today it is a handy rain shelter which is also used for market stalls twice a week, on Tuesdays and Saturdays. It is also handy for people-watching while taking a shopping break. The birds are gone but not forgotten.
Walking Tours in Salisbury, England