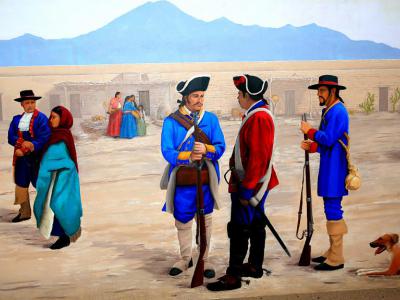 Presidio San Agustin del Tucson, Tucson
(must see)
The Presidio San Agustin del Tucson Museum was created to give visitors a taste of life in 1775. This must see location offers edutainment at its finest for all ages. Tourists can see the original Presidio wall, archaeological findings and a dwelling that is more than 150 years old.

The original Presidio was thought to have been constructed in the fall of 1776, but construction and re-construction continued over many decades. It was originally constructed by Spanish soldiers led by Captain Hugh O'Conor, an Irish missionary and the founding father of Tucson.

The Presidio is credited with being the earliest structure in Tucson and the genesis of the city itself. Even the name of Tucson refers to the location of the Presidio at the "black base" of Sentinel Peak.

It remained a working fort through 1856 when the fort was demolished so that materials could be used to make new buildings. Because the last remaining wall of the Presidio was torn down in 1918, the structure visitors now see is a recreation based on archaeological findings and original sketches.

Tourists will see the Siqueiros-Jacome Home, which now hosts the gift shop. This home was built in the 1860s in the fashion of a typical Sonoran row home. The house belonged to Soledad Jacome and her husband Juan Siqueiros from 1866 through the early 1870s when Juan disappeared. Soledad then worked as a seamstress to support her six daughter until her death in 1911.

Visitors also have the opportunity to learn about the native people who lived in the region as well as the first territorial settlers. They can take guided tours, watch re-enactments and enjoy demonstrations on select days.

Demonstrations at the Presidio include cotton and wool carding, weaving, spinning, soldier demonstrations, musket shooting and tortilla making. There are also special events that include winter gardening workshops, lectures about crime in territorial Tucson and walking ghost tours.

Why You Should Visit
The Presidio San Agustin del Tucson offers an entertaining look into the past. Those who are new to the area, vacationing or who live in Tucson and want to know more about the region's history can gain a great deal of insight while touring the rebuilt Presidio walls.
Presidio San Agustin del Tucson on Map
Walking Tours in Tucson, Arizona