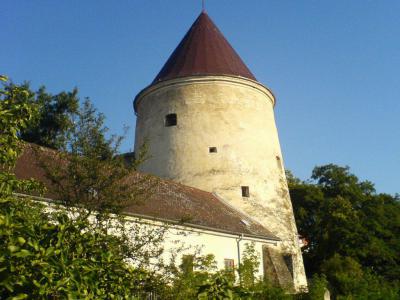 Pulverturm (Gunpowder Tower), Lucerne
Traditionally the city of Lucerne kept its gunpowder stock, as the matter of precaution, in two towers: the Heuturm (Hay Tower) and the Pulverturm (Gunpowder Tower). Indeed, when a disaster struck the Heuturm – destroyed by an explosion in 1701, the load of gunpowder stored in the Pulverturm remained safe.

According to various records, the tower was built in autumn/winter 1398/99 at the earliest, or 1408 at the latest, which makes it the second oldest in the Musegg Wall. It was then further modified, on the interior, sometime around 1512-1515. Initially, the tower was known as the Holdermeyerturm (Holdermeyer Tower), in reference to the city treasurer Jost Holdermeyer who served circa 1570 and was the owner of the nearby garden.

The Pulverturm stands 27.5 meters high, measuring 9.1 x 6.8 meters at the base, and has the walls 1.6 meters thick.

A theory, not fully substantiated, suggests that a Tannberg Castle previously stood on this site; the masonry pattern found in the lower part of the tower – clearly different from that a few meters above – seemingly attests to that. However, the difference in patterns may well be attributed to the phased construction. Since lime mortar cannot set in cold season, construction work had to be stopped during winter and resumed only in spring, possibly by another team of builders, with stones from a different quarry, and freshly mixed mortar. Such a difference in masonry could well be "the order of the day" in medieval structures and, thus, should not be misinterpreted, experts say.

Nowadays, the Pulverturm serves as a guild hall for the Wey Guild, established in 1925 for the purpose of reviving the Lucerne Carnival. This guild has been a tenant in the tower since 1970, maintaining it as part of the municipal property. The tower is not open to the public.
Pulverturm (Gunpowder Tower) on Map
Walking Tours in Lucerne, Switzerland