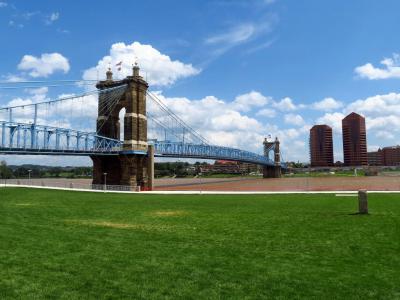 Roebling Suspension Bridge, Cincinnati
(must see)
The John A. Roebling Suspension Bridge crosses the Ohio River between Cincinnati and Covington, Kentucky. The bridge is known for being the longest suspension bridge in the world when it was originally built in 1866.

The Covington and Cincinnati Bridge Company formed in 1846 for the sole purpose of building this bridge. Though the company was greeted with much opposition from the outset, construction finally began in 1856. John A. Roebling was the architect hired for this job as his previous work, including the Niagara Falls Suspension Bridge, had shown that he was able to design a bridge of the substantial length required.

Previously known as the Cincinnati-Covington Bridge, the Roebling Suspension Bridge is 1,642 feet and 11 inches in length. It no longer sees the heavy vehicle transit that it once did, but it continues to be a popular pedestrian bridge. Visitors can enjoy views of the Ohio River while on their way to or from the Great American Ballpark, Paul Brown Stadium and the National Underground Railroad Freedom Center.
Roebling Suspension Bridge on Map
Walking Tours in Cincinnati, Ohio