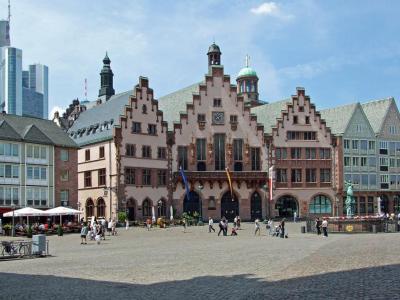 Römerberg (Square), Frankfurt
(must see)
Römerberg ("Roman Mountain") is the town hall square lying in front of (and subsequently named after) the Römer complex, the seat of the Frankfurt city administration since the 15th century. As the site of numerous imperial coronations, trade fairs, and Christmas markets, this square marks the historic heart of the medieval Altstadt (Old Town) and is a popular tourist destination. In the 20th century, Römerberg was the scene of many major events, both joyful and not so. On May 10, 1933, the infamous book burning organized by the Nazi German Student Union took place here. Between 1932 and 1939, the internationally renowned Römerberg Festival had been held here every summer, with nearly 350 open-air theater shows performed during the period.

Much of Römerberg's historical heritage, consisting of partly Gothic and partly Baroque architecture, was destroyed by Allied air raids in 1944. Today's square is the result of externally true to the original reconstructions and new buildings raised in the 1950s-1980s. The eastern part of Römerberg, also known as Samstagsberg (Saturday Mountain), represents a row of historical half-timbered houses, namely: Großer and Kleiner Engel, Goldener Greif, Wilder Mann, Kleiner Dachsberg, Großer Laubenberg, Kleiner Laubenberg, and Schwarzer Stern, built between 1981 and 1984. The name "Saturday Mountain" possibly comes from an open-air court that was held here every Saturday during the Carolingian era, when the Königspfalz Frankfurt lay east of the square. The Frankfurt Jews were only allowed to enter Römerberg during the fair, otherwise, they had to go to the Saturday market.

To the north, there are four new buildings featuring Neo-Gothic, Neo-Renaissance, and Neo-Baroque styles, replacing the six old houses demolished in 1906. In the south, Römerberg is presided over by the early Gothic Alte Nikolaikirche (Old Saint Nicholas Church). The new building of the Historical Museum, also located on the south side of the square, at the entrance to Saalgasse, was opened in October 2017.

The Fountain of Justice has been in Römerberg since 1543.
Römerberg (Square) on Map
Walking Tours in Frankfurt, Germany
Useful Travel Guides for Planning Your Trip
--- 15 Distinctively German Things to Buy in Frankfurt
Home to the European currency (ECB) and namesake sausages, Frankfurt is undoubtedly one of, if not "the", most known destination in Germany. For this there are quite a few reasons. Listed here are some of the things behind those reasons, which now can be picked up as... Frankfurt's Best Authentic Restaurants
Frankfurt is a dynamic and popular city located right in the center of western Europe. More than 10,000 people move to Frankfurt every year; over the past decades, it has become a highly international city -- about half of all children born here had non-German parents. Being the main hub for the...