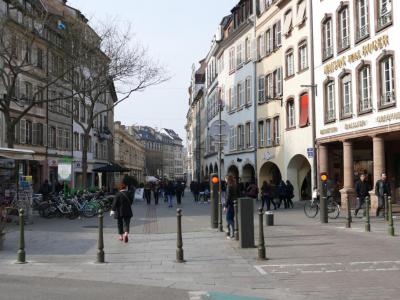 Rue des Grandes Arcades (Grand Arcades Street), Strasbourg
Located on the Grand Île and right in the center of old Strasbourg, Grand Arcades Street is one of the city's central shopping districts. You'll find the street packed day and night, and all of the buildings have shops of every description. There are international everyday brands that you'll recognize, as well as small local boutiques.

Among the many brands you'll find along the Grand Arcades Street are Sephora, Dr. Martens, and Starbucks. If you're hungry, there are various fast-food chains, sidewalk cafés, and fine-dining restaurants available.

The street is pedestrian-only, as are most of the side streets in the area. That makes it a great place to stroll and see the sights of Strasbourg. Near its midpoint, the street forms the eastern edge of the Kléber Square. The street ends on the south side at the Gutenberg Square, a stone's throw away from the Notre Dame Cathedral of Strasbourg.
Rue des Grandes Arcades (Grand Arcades Street) on Map
Walking Tours in Strasbourg, France