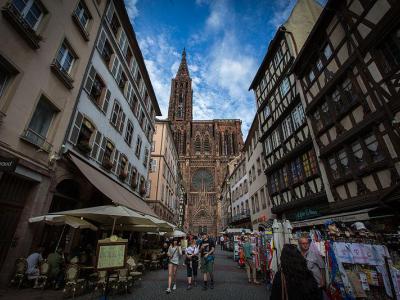 Rue Mercière (Merchants Street), Strasbourg
Merchants Street (Rue Mercière) is a picturesque medieval street nestled in the heart of Strasbourg. This charming cobblestone pathway stretches approximately 250 feet (76 meters), weaving its way from the western end where it meets Rue du Vieux-Marché-aux-Poissons, to the eastern expanse where it gracefully converges with Place de la Cathédrale, encircling the majestic Strasbourg Cathedral.

The Rue Merciere opens up the breathtaking view of the massive cathedral. This masterpiece of Gothic architecture captivates the senses with its intricate stonework, culminating in a spire that soars nearly 470 feet into the sky – a pinnacle that reigned as the world's tallest structure for an astonishing half a millennium.

Lining this pedestrian thoroughfare are solid half-timbered buildings, their timeless facades providing an enchanting contrast to the Gothic splendor that looms beyond. These structures form a striking backdrop, framing the cathedral with a harmonious juxtaposition of architectural styles.

Nestled at the junction of Place de la Cathédrale and Rue Mercière stands the venerable Pharmacie du Cerf. With its origins dating back to the year 1268, it proudly claims the title of the oldest pharmacy in all of France. This storied establishment stands as a testament to the street's enduring legacy and its role as a hub of history and commerce.
Rue Mercière (Merchants Street) on Map
Walking Tours in Strasbourg, France