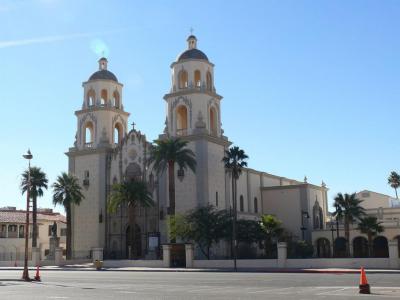 Saint Augustine Cathedral, Tucson
(must see)
The Saint Augustine Cathedral is one of the oldest and most beautiful buildings in Tucson. Construction on the cathedral began in 1858 and was completed 10 years later. The cathedral has undergone many reconstruction projects since then including one that demolished and rebuilt most of the structure.

Pope Pius XI was pope at the time the building was erected. Therefore, it is his coat of arms that adorns the cathedral. There is also a 12th century crucifix from Pamplona, Spain that hangs in the vestibule. The cathedral's interior is just as impressive as its exterior, with a soaring nave, ornate altars, and intricate murals and paintings. The cathedral also houses a number of historic artifacts, including a 17th-century altar and a 19th-century pipe organ.

Today, the church remains the mother church of the Roman Catholic Diocese of Tucson. Visitors are welcome in the church during services or special events. Even for those simply wishing to walk by, the cathedral is worth stopping by to enjoy the stained glass windows and the representation of the Mission San Xavier del Bac.

Why You Should Visit
Lovers of architecture will be stunned by the artistry that went into building this cathedral. Even those who are not Catholic will walk away with a sense of awe at the building's beauty.

Tips
Those who want to see the inside of the cathedral should plan a weekend trip, though confessions are open on Wednesdays and Fridays.
Saint Augustine Cathedral on Map
Walking Tours in Tucson, Arizona