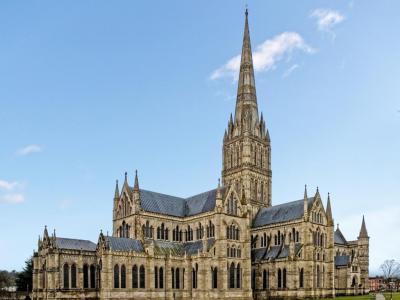 Salisbury Cathedral, Salisbury
(must see)
The name "Salisbury" is derived from the name "Sarum." The Salisbury of today started out as New Sarum. The story of Salisbury Cathedral began in Old Sarum. Things were not happy in Old Sarum. The clergy and the military were forever at odds over Sarum Cathedral. Richard Poore, bishop, decided to relocate the bishopric to New Sarum.

It is said the bishop, Moore, shot an arrow. The arrow killed a deer. Where the deer fell would be the site of the new cathedral. Another myth claimed that the cathedral, Old Sarum, and Stonehenge were mystically aligned. It is more likely that the marshy ground was chosen because a more desirable site could not be had.

The cathedral was designed by architect and master stonemason Elias of Dereham. Elias had been at Runnymede in 1215 when King John signed the Magna Carta. Elias made copies. He would install one of them in the Cathedral chapter house. It is there today. The formal name of the cathedral is the Cathedral Church of the Blessed Virgin Mary.

The foundation was laid in 1220. The nave, transepts, and choir were finished by 1258. This was record time for cathedral building. The cloisters were done by 1240, the chapter house in 1263 and the tower and spire by 1320. The 404 foot spire is the tallest in England. The cathedral was built in one style only, Early English Gothic.

The west facade is a screen type. It has a turret at each end. There are two buttresses in the center supporting the triple center window. The center is capped with a gable holding four lancet windows under two quatrefoil windows and a mandorla framing an image of Christ in Majesty. There are 73 of 130 niches which contain statues.

The interior has a high narrow nave. It has a pointed arcade, a gallery and clerestory. The walls are of grey stone and the columns are of dark marble. Tombs of royal families lie between the columns. A large cruciform font by sculptor William Pie was installed in 2008. A statue of Richard Moore on the facade holds a model of the cathedral.
Salisbury Cathedral on Map
Walking Tours in Salisbury, England