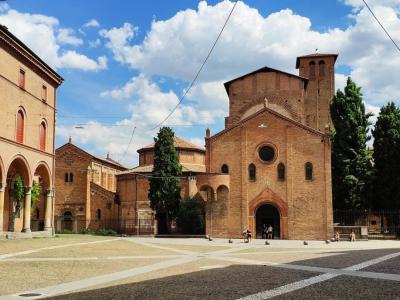 Santo Stefano (St. Stephen Complex), Bologna
(must see)
This complex of religous buildings is also known as Seven Churches or Holy Jerusalem.

Tradition states that Saint Petronius built the complex over a temple dedicated to Isis. Saint Petronius wanted to emulate the Church of the Holy Sepulchre in Jerusalem.

The Saint Stephen Church or of the Holy Crucifix dates back to the eighth century. Artist Simone dei Corcifissi created the crucifix in 1380. In addition, 15th-century frescoes depict the Martyrdom of Saint Stephen. A crypt with five naves is located underneath the church.

The Church of the Holy Sepulchre dates to the fifth century. It was built by Bishop Petronius, who was later venerated as Saint Petronius. Petronius wanted to emulate the Constantinian Sepulcher of Jerusalem and reproduce where Christ's remains were held. A shrine holds San Petronio relics. The church was damaged in the 10th century and rebuilt in the 11th century.

The Church of the Saints Vitale and Agricola is the oldest in the complex. The remains of the venerated saints Vitale and Agricola were moved from the church in 393 AD. This indicates that the church was built sometime before 393 AD.

In the 1400s, a sepulcher with the inscription Symon was found. When pilgrims began coming to the church to look for Saint Peter's tomb, the Pope had the church filled with earth for seventy years. The interior features a Roman mosaic floor.

The Courtyard of Pilate commemorates the place where Jesus was condemned to death. In the courtyard center is a limestone basin known as Pilato's Cat. The basin dates to the eighth century. Visitors will also find a 14th century stone rooster to symbolize the denial of Jesus.

The Church of the Trinity or of the Martyrium is also known as the Church of the Holy Cross or of Calvary or Trinity. This church was planned to emulate the Holy Sepulcher in Jerusalem but was unfinished. Inside the church, visitors will find a 12th-century life-sized wooden nativity scene.

Finally, don't miss the St. Stephen's Museum, which houses various relics, artworks, and religious objects.

Why You Should Visit

The oldest parts of the complex date back to Roman times. Visitors will find a Roman mosaic floor in The Church of the Saints Vitale and Agricola. This complex is full of history and provides insight into medieval religious customs.

Tips

Benedictine Monks sell souvenirs and their special liquor in the gift shop.
Santo Stefano (St. Stephen Complex) on Map
Walking Tours in Bologna, Italy