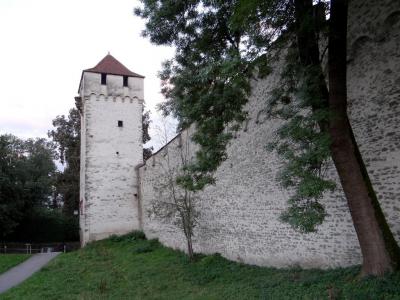 Schirmerturm (Umbrella Tower), Lucerne
Just like the Nölliturm, the Schirmerturm (literally "Umbrella Tower") is a gate tower, located between the Zytturm and the Pulverturm, and once offered gateway from Lucerne to the countryside. Historians say it also provided gateway to Zürichstrasse at the time of the Zurich War, circa 1442. The gate was walled up in 1658 and reopened in 1878 when the Musegg school was built. At a later period, and for a long time, the tower was used as a warehouse by the city's gardening department.

The Schirmerturm was built in 1420 and, similarly to the neighboring Luegislandturm, was originally a "half tower", i.e. not walled on the south side facing the city. The open side was later bricked up, for structural reasons, leaving narrow, rectangular loopholes on the upper floors, traditionally used by bow- and crossbowmen in the Middle Ages. However, by the time they were built, no archers in the Lucerne army had been left, so the embrasures were purely decorative architectural elements.

The Schirmerturm stands 27.5 meters high, being the second smallest tower in the Musegg Wall, and measures 9.10 x 7.25 meters in footprint. It features finely-cut quarry stone work and nice corner blocks stones, with wonderful round arches around the top, crowned by a low, pyramid-shaped roof – replica of the original roof from 1513, destroyed by fire in 1994. The battlements upon which the roof rests rise above the arched frieze with two projecting consoles. On the north side, the arched frieze is interrupted by three consoles that once supported a bay window.

In the passage of the tower there is a statue of one of the city's patrons, Saint Mauritius.

In 1930, an electrical transformer station was installed here to illuminate all the Musegg towers.

The Schirmerturm has been open to the public during summer since 1951. The 96 steps leading to the top floor offer a wonderful panorama of the city, extending to Lake Lucerne and the Pilatus.
Schirmerturm (Umbrella Tower) on Map
Walking Tours in Lucerne, Switzerland